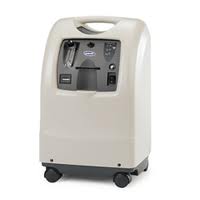 How to Use an Oxygen Generator
Plug the generator into a wall outlet that is known to have power and engage the on/off switch. It will make a long beep. After a few seconds, the long beep will stop and only the green light will be on. If this does not occur, please check to make sure that the outlet has power (are there any wall switches that need to be turned on?). Try again or use a different outlet. If continuous beeping occurs after the machine has been running for some time, please give us a call.
Set the oxygen flow rate using the small dial on the front of the machine. The average recommended usage is 1.5 liters per minute for one user. For two guests, double the setting to 3.0 liters per minute.
Plug the breathing tube into the concentrator and adjust the nose piece for comfort (to the nose, over the ears and back in front of you).
Do not exceed 2 liters per minute per person!
A few precautions about using supplemental oxygen:
HEAT – Keep all oxygen equipment, including tubing, at least 10 feet away from any source of heat.
SMOKING – For your health and safety, smoking should not be permitted in the same room where oxygen is used or stored.
PETROLEUM PRODUCTS – Never use grease, oil or other petroleum products on or near any oxygen equipment, including tubing.
CONCENTRATOR PLACEMENT – A generator should be kept at least 6 to 12 inches away from drapes, bedspreads and walls, and there should never be items stacked or stored on top of the device.
ELECTRICAL – Generators should not be plugged into an extension cord, multi-outlet adapter, power strip, or into an outlet or circuit that has other major appliances plugged into it.